Update II: Zuckerberg is probably regretting agreeing to those extra 15 minutes before the break right about now...
Ted Cruz is hammering Zuckerberg about whether his company is a neutral public form, citing a now famous 2015 Gizmodo story claiming Facebook employees actively suppressed conservative news.
And before that, just when it looked like all the tough questions were in the rear view mirror, Connecticut Sen. Dick Blumenthal hits Zuckerberg with a "gotcha" question based on a report about the terms of service provided to Facebook by the researcher who sold Facebook user data to Cambridge Analytica.
As we pointed out,  Dr. Aleksandr Kogan disclosed his plans to market the data in a contract issued along with an update to Kogan's app. That term was in violation of Facebook's terms of service, but the company somehow didn't catch it.
Zuckerberg admitted to the mistake, but insisted it didn't amount to a violation of FTC rules.
Would Facebook assent to an "opt-in" for collecting user data as opposed to an "opt out?" Zuck says it "certainly makes sense to discuss."
* * *
When kids transition from a messenger kids account to a Facebook account, they effectively "start over" with their digital data profile, Facebook says in response to a question from Illinois Sen. Dick Durbin.
Sen. Roy Blunt asks whether Facebook tracks devices where Facebook's apps are installed, even when they're not using Facebook - so-called cross-device tracking - Zuckerberg said he believes it does, but that he'll need to get back to the committee.
Does Facebook collect data from other apps? "In general," it doesn't, Zuck says.
Following several circuitous questions about Facebook's competitors, services and market share, Lindsey Graham asks Zuckerberg if Facebook has a monopoly, to which Zuck replies: "It doesn't feel like we have a monopoly."
ZUCKERBERG SAYS IT 'DOESN'T FEEL LIKE' FACEBOOK HAS A MONOPOLY

John D. Rockefeller: "You call it monopoly, I call it enterprise"
* * *
Lawmakers are really struggling with some basic web concepts...
Listening to Zuck explain "opt-in" and "cookies" to Senator Wicker = highlight of my day. Not a
But in case you were wondering - yes Facebook can follow your browser activity even after you log off. Also, Zuck does not know if Facebook collects the phone logs of people aged 13-17.
Zuckerberg says he's not aware that the company has received a subpoena from the Mueller probe - but it may have. Regardless, Facebook is cooperating.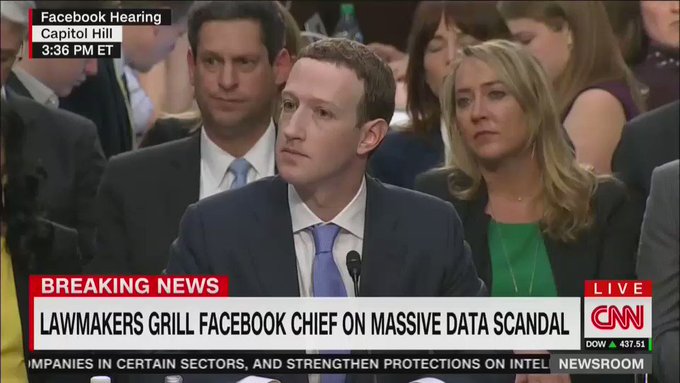 Here's Zuckerberg saying Facebook has received subpoenas from Special Counsel Robert Mueller, then reversing himself and saying "I actually am not aware of a subpoena, I believe that there may be, but I know we're working with them."
Regarding Zuckerberg's answer that he wasn't sure if any Facebook employees worked with Cambridge Analytica...
Nick Confessore✔@nickconfessore

Answer to @SenatorCantwell's question: Yes, FB employees (at least four of them at one point) were embedded alongside Cambridge employees at Trump's campaign office in San Antonio.
Also, in a moment that recalled a confusing question posed by Sen. John McCain during James Comey's June public testimony, Chuck Grassley asked Zuckerberg how the company makes money if it doesn't charge for use.
Zuckerberg's reply: "We sell ads sir"
"Senator, we sell ads." is THE sound bite of 2018.
Also, regarding Zuck's claim that the Trump campaign received the same support that Facebook offers every other customer or campaign - this little gem must've slipped his mind.
* * *
Update: The market is impressed with Zuckerberg's performance so far.
In a stark contrast to an interview he did with CNN two weeks ago, Zuckerberg appears poised and is offering clear, coherent answers to lawmakers' questions.
Apparently the market believes Zuckerberg's argument that Facebook couldn't have grown to the scale it did without making mistakes along the way might win over some critics.
He also made the case that the company's internal metrics overwhelmingly show users prefer targeted ads to the non-targeted variety and therefore many don't opt out of Facebook's third-party data sharing.
His admission that Facebook has "no plans" to offer a paid option - something that many believe would be anathema to the company's business model - hasn't hurt.
* * *
In his first of two appearances before lawmakers on Capitol Hill, Facebook CEO Mark Zuckerberg is expected to testify before the Senate Judiciary and Commerce Committees Tuesday afternoon, beginning shortly after 2:15 pm ET.
Watch live below:
Shortly before his appearance, Zuckerberg posted the following message on his personal Facebook page:
In an hour I'm going to testify in front of the Senate about how Facebook needs to take a broader view of our responsibility -- not just to build tools, but to make sure those tools are used for good. I will do everything I can to make Facebook a place where everyone can stay closer with the people they care about, and to make sure it's a positive force in the world.
Earlier today, the company announced that it would begin paying bounties to whistleblowers who bring new data leaks to their attention.
Facebook shares are in rally mode ahead of the hearing. Here's a rundown of what listeners should watch out for as Zuck faces off against 44 Senators, some of whom are hungry for soundbites to use in their upcoming midterm election campaigns. Zuck met with Florida's Bill Nelson and California's Dianne Feinstein yesterday for private sessions ahead of the hearing.
And the first question should be...why are you selling your stock?
no
12