Democratic 2016 presidential hopeful Hillary Clinton claimed Tuesday that Fox News is "trying to impeach me," the latest gripe the former secretary of state has expressed about Fox's coverage.
Clinton, who holds no political office, made the remarks in a speech to The Wing -- a women-only co-working space in New York City -- where, despite saying she was optimistic and had faith in diversity and young people, she painted a grim picture of the future of the U.S.
"I don't think we've seen the bottom yet, I think it's very unfortunate to contemplate but more can happen that would put our rights at risk, our freedom at risk, our values, our fundamental views about what it means to be Americans," she said. She also described America as being in "a very bad spot."
omg omg @HillaryClinton just said she's proud of the wing!!!!!
But when asked about the "Lock her up" chants that cropped up during the 2016 election in response to the scandal over her use of a private email when she served as secretary of state, she expressed annoyance at both President Trump and Fox News.
"When he can't think of anything to say, Trump starts chanting it and you sit there and you think 'does he think I was elected?'" she said. "I said something publicly a few months ago, Fox News is always trying to impeach me so someone needs to tell them that it doesn't apply to a private citizen."
After losing the election in November 2016, Clinton has set up the political action organization Onward Together, released a 500-plus page campaign post-mortem and embarked on a lengthy speaking tour to promote the tome.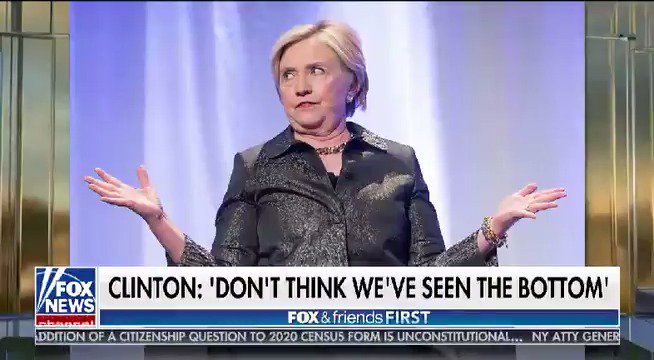 Fox & Friends First✔@FoxFriendsFirst

HILLARY AT IT AGAIN. The failed presidential nominee going on yet another post-election rant against President Trump, Putin, & Fox News | @JackieibanezFNC
The Justice Department's inspector general has also been investigating the FBI's conduct during the 2016 election, including its probe into her email use. Republicans on the HIll have also launched a similar investigation.
Tuesday was not the first time Clinton has expressed irritation at Fox's coverage of her post-campaign travails. 
In November she announced she was "resigning from the Fox News presidency."
In her address on Tuesday, she told the audience that she admired "the staying power of the resistance" and said she was focused on the upcoming midterm elections.
"My goal is to take back the House and the Senate," she said. 
no